Tile Contractor: Glass Backsplash Ideas, Advice
A word from your local tile contractor: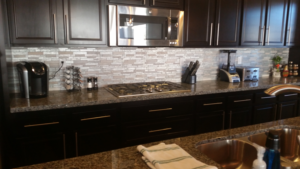 A new kitchen backsplash is the the perfect way to update the look of your kitchen! The options for a new kitchen backspalsh are many. These options range from standard ceramic tile to lavish stone and natural granite. One thing is for sure, a new backsplash is an attractive, economical alternative. If you already have glass material picked out, next up is calculating the area of space to cover.
Before you grab your tape measure consider these things:
Do you cook often? Perhaps a bigger backsplash is in order to catch the spatter.
Does your kitchen just serve as a store house for food? In this case a more low profile backsplash might be in order.
Does the backsplash span from counter top to cabinet. Will the backsplash extend to the ceiling?
Once these questions are answered, grab that tape measure and write down the dimensions. Glass tile will range from clear to completely frosted. In addition glass tiles can be leaded, brightly colored, or totally opaque. This is an opportunity for you to show your personal style. A good place to start exploring options is your local home improvement store.
You could also, Click here to check out some great glass backsplash tile ideas from Arizona Tile.
Once you have settled on a material and design, it is time to move to the execution phase! That is where J&Z tile comes in. We have over two decades of combined experience being a tile contractor. While a DIY project would be cheaper to install, as professionals we take great pride in our work. Contact Us today for a quote!